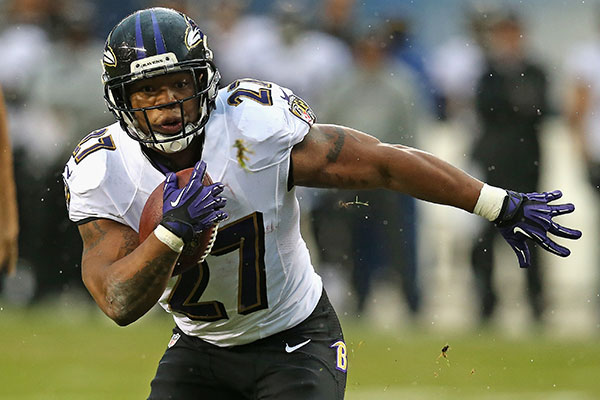 After a career-worst year in 2013, this incident has put Ray Rice's future in Baltimore in doubt.
(Photo Credit: Google/ESPN.com)
Ravens running back, Ray Rice was arrested in a domestic dispute with his fiancee. This news comes as a surprise to many because Rice's character wouldn't lead you to believe he would do something like this. The Baltimore Ravens organization doesn't like dealing with situations like this. However, they have always handled these situations in the best way. They will wait for all the facts to come out, and let the legal process play out. This was one mistake in an otherwise clean rap sheet for Rice.
This situation alone will not compel the Ravens to cut Rice. But his play on-the-field combined with this? That's another question entirely. Rice is coming off the worst season of his career. He averaged 3.1 yards a carry and only scored four touchdowns. He didn't look like Ray Rice. He looked slow and out-of-shape, and perhaps injury played a bigger factor than he let on. Questions of "is he done?" surfaced.
[Was he getting worn down by the beating he's taken over the years? Or did he just get fat and happy after winning a Super Bowl?]
. Either way 2014 was a make-or-break year for him before this incident. Now? The pressure just ratcheted up.
The NFL is reviewing the case and determining what punishment Rice may receive. If he misses games it's possible that he could lose his starting job. There are cap implications to cutting Rice, implications that may be too crippling money-wise for the Ravens. That will work in Ray's favor, and the organization will give him an opportunity to come back and prove himself. A suspension though
[particularly a long-term suspension]
, would hurt his chances of doing that.
Rice's actions have opened up more questions for the Ravens
[and all but cemented the possibility that they will draft a running back come May]
. Can they depend on Bernard Pierce
[always banged up]
to assume the starting role? Can a rookie come in and have instant success? When Rice comes back will he be in great shape? Or will he even be good enough to start? Any way you slice it, Ray Rice is in big trouble. The question is will it be limited to legal trouble or will it potentially end his football career in Baltimore?